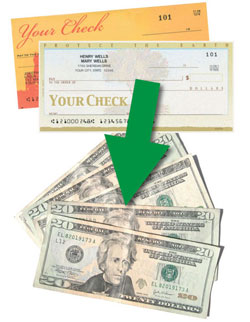 You are thinking to yourself, why should I choose Acme in Elizabeth, NJ? Well ACME Check Cashing is a well-known family owned business since 1971, and is also licensed by the NJ Department of Banking & Insurance.
ACME Check Cashing Services (also known as ACE) are located in the areas of Elizabeth NJ, Rahway, NJ and Edison, NJ and this three locations help offers a big full range of check cashing an even money order services so that you can get your money out right away to the people that you are sending it to without having to wait for your check to clear. The staff here at Acme Check Cashing Services in Elizabeth, NJ offer friendly, courteous and professional service, providing all kinds of financial services for cashing checks that include corporate payroll and government to go along with moneygrams and pre-paid debit cards. You can even pay all your bills with us positively knowing that they will be paid on time. Si, hablamos Español.
Tired of high bank fees? Then Come to Acme in Elizabeth, NJ!
Have a few extra dollars to spare? Acme Check Cashing Service in Elizabeth, NJ also sells Lottery Tickets!
Acme Check Cashing in Elizabeth, NJ also offers check cashing services in NJ near Union County, Middlesex County and even all of the surrounding areas including New York, Pennsylvania and Connecticut.
Remember that check cashing is serviced at these three locations:
Elizabeth, NJ, Rahway, NJ, Edison, NJ.
See Our Full List of Services
Click here to more about Acme in Elizabeth, NJ