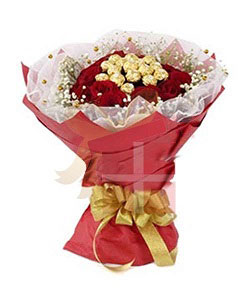 Everyone wants to do something for that special someone, and what better way to do it than a bouquet of flowers or box of chocolates. It absolutely does not have to be Valentine's Day for an excuse to show how you feel to someone you care for. At the Acme Check Cashing in Elizabeth, NJ you can get cash quickly to spend it on a gift for your person.
Buying a rose from the local florist in Elizabeth, NJ for a few bucks is an easy but thoughtful way to show your affection towards someone you care about. Not everyone can easily access cash quickly. With the help of Acme Check Cashing this simple fact can become false. Checking your cash takes no time at all, and you will have money to buy a thoughtful gift for that person that cares the most about you. Check cashing is one of the fastest ways to get cash and money in your pocket. Going to the Acme Check Cashing in Elizabeth, NJ is a business focused on making your life convenient and stress free, giving you access to cash when you need it. Quick access to cash and check cashing is a great advantage when you want suddenly feel the urge to get a cute present for the person that makes you feel special.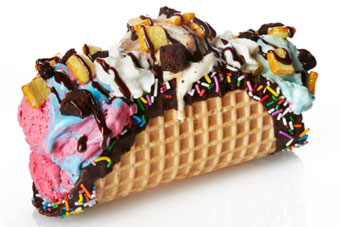 Getting paid and receiving a paycheck is great. But, cash is better! You can't buy new trendy shoes with a paycheck. It is futile. Instead, you need to somehow quickly convert your paycheck into cash. With the cash checking services offered by Acme Check Cashing in Elizabeth, NJ, cashing a paycheck is easy, quick, and painless. Having cash quick and fast through check cashing is also made convenient through Acme Check Cashing Centers in Elizabeth, NJ. With cash in hand there is a lot you can do. For example, after a trip to Acme Check Cashing, you can go to the mall to buy your favorite items. You can go to a high-class, fancy restaurant and buy a delicious mouth-watering, juicy, deluxe angus-beef cheeseburger. You can do all this with the money you get from cashing your check.
Read more: Paychecks are great. But, cash is better! Visit Acme's Check Cashing Center in Elizabeth, NJ for a...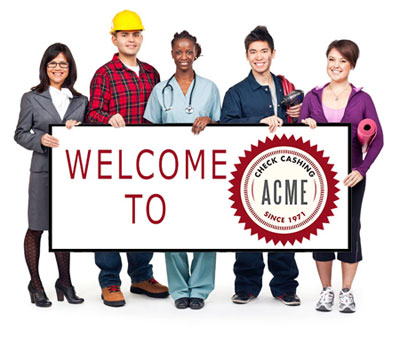 Check cashing is a convenient service. Acme Check Cashing in Elizabeth, NJ allows customers to cash a check without going through their bank. This is beneficial for people who do not have a bank account or do not want to use the bank to cash their checks. The way check cashing works is simple and easy for people who do not want to wait for a check to clear. Acme Check Cashing checks the identification of the customer, asks for endorsement of the check, and gives the value of the check back to the customer in cash. Acme Check Cashing deposits the check into the company bank account. This is how check cashing works. This service is now available in Elizabeth, NJ thanks to Acme Check Cashing. Check cashing has some great benefits. If getting to your bank is out of the question, you don't have the time to wait for the check to clear, or don't have a bank account then check cashing is an alternate solution that can get you the cash you need. Acme Check Cashing seeks to provide this simple and convenient service to the people of Elizabeth, NJ and surrounding areas.
Read more: How Does Acme Check Cashing Work and What are the Benefits to Elizabeth, NJ Customers?
Acme Check Cashing has 3 locations. One of which is located in Elizabeth, NJ. They are known for their great low-cost service. Even the staff that work at Acme check cashing in Elizabeth, New Jersey branch are wonderful professionals, courteous, and also knowledgeable. And the company has been around since 1971. Using the check cashing services at Elizabeth, NJ is totally awesome because you can get great flexible hours when it comes to your payday check, loans, money transfers, making all your bill payments, doing money orders, and even doing your P.O. boxes.
Read more: Friendly Check Cashing Professionals in Elizabeth, NJ