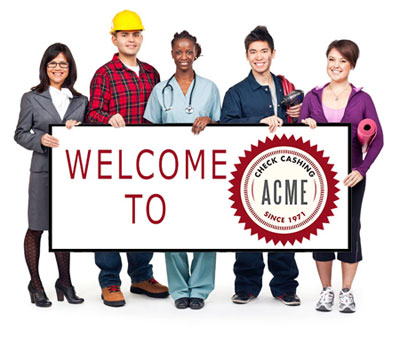 Check cashing is a convenient service. Acme Check Cashing in Elizabeth, NJ allows customers to cash a check without going through their bank. This is beneficial for people who do not have a bank account or do not want to use the bank to cash their checks. The way check cashing works is simple and easy for people who do not want to wait for a check to clear. Acme Check Cashing checks the identification of the customer, asks for endorsement of the check, and gives the value of the check back to the customer in cash. Acme Check Cashing deposits the check into the company bank account. This is how check cashing works. This service is now available in Elizabeth, NJ thanks to Acme Check Cashing. Check cashing has some great benefits. If getting to your bank is out of the question, you don't have the time to wait for the check to clear, or don't have a bank account then check cashing is an alternate solution that can get you the cash you need. Acme Check Cashing seeks to provide this simple and convenient service to the people of Elizabeth, NJ and surrounding areas.
Read more: How Does Acme Check Cashing Work and What are the Benefits to Elizabeth, NJ Customers?
Acme Check Cashing has 3 locations. One of which is located in Elizabeth, NJ. They are known for their great low-cost service. Even the staff that work at Acme check cashing in Elizabeth, New Jersey branch are wonderful professionals, courteous, and also knowledgeable. And the company has been around since 1971. Using the check cashing services at Elizabeth, NJ is totally awesome because you can get great flexible hours when it comes to your payday check, loans, money transfers, making all your bill payments, doing money orders, and even doing your P.O. boxes.
Read more: Friendly Check Cashing Professionals in Elizabeth, NJ